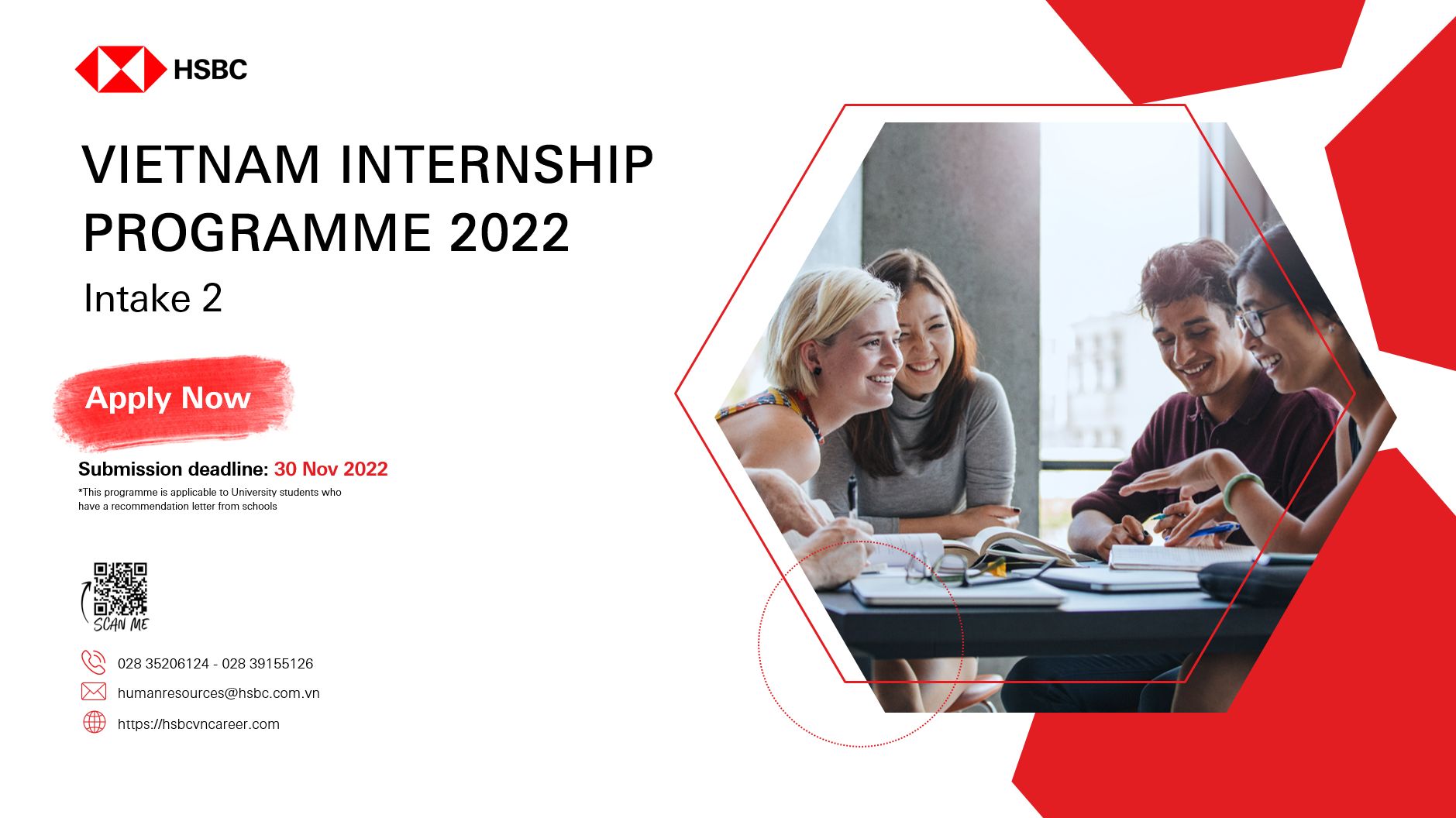 Are you a University or College student looking for an opportunity to gain practical experience and on-the-job training? Whether you desire for a new career path or a chance to become a part of a global and professional working environment, HSBC Vietnam opens the world of opportunities that will unlock your potential and take you further. This will be an amazing opportunity for you to practice what you have learned to make changes and differences. Let's apply now to develop and succeed together.
We are now opening new HSBC Vietnam Internship Program 2022 – Intake 2 across business divisions and functions where you will be able to pursue the first step in your career, including:
Wealth and Personal Banking (Ho Chi Minh, Ha Noi)
Wholesale Banking (Ho Chi Minh, Ha Noi)
Global Banking & Markets (Ho Chi Minh, Ha Noi)
Global Functions: Human Resources, Finance, Compliance (Ho Chi Minh)
Digital Business Services: Operations (Ho Chi Minh)
Other functions/departments
What you will gain?
Comprehensive knowledge about one of the largest banking and financial services organizations in the world.
Practical experience in the professional and international working environment.
Exciting challenges to grow up and develop your skillset.
Constructive feedback and support from Mentor to improve your performance.
Monthly allowance based on the Bank's policy.
Opportunity of learning HSBC values and working skills through Future Skill Series in HSBC University.
To be successful in the role, you should meet the following requirements:
University/College students who desire for an internship from 06 to 09 months.
Ability to work full-time is a plus.
Have recommendation letter for internship from University/College.
Strong teamwork and organizational skills.
Proactive attitude, high enthusiasm and responsibilities in performance.
Good communication and interpersonal skills.
Good English skills both verbal and written.
We are looking forward to welcoming you to HSBC Vietnam.
Visit us at HSBC VIETNAM INTERNSHIP PROGRAMME 2022 – INTAKE 2 to submit your application.
Deadline: 30/11/2022.
We are looking forward to welcoming you to HSBC Vietnam.
Survey
You know HSBC's Talent Network via:
Newspapers, Magazines

Friends, Relatives

Social network

Job Boards