If you are looking for a career that will help you to stand out, join HSBC and fulfil your potential. Whether you want a career that could take you to the top, or simply take you in an exciting new direction, HSBC offers opportunities, support and rewards that will take you further.
HSBC is one of the largest and most diverse organizations in the world. Throughout our history, our role and purpose remain constant: to enable businesses to thrive and economies to prosper, to help people fulfil their hopes and dreams and realize their ambitions. At HSBC, we lead with courageous integrity and strive always to be dependable, open and connected. Our values help us to make the right decisions and to mitigate risk.
We serve around 47 million customers through four Global Businesses: Retail Banking and Wealth Management, Commercial Banking, Global Banking and Markets, Global Private Banking.
HSBC Vietnam opened in Ho Chi Minh City in 1870 and the first full service branch opened in 1955. In 2009, we began operating our locally incorporated entity, becoming the first foreign bank in Vietnam and today the Bank's network in Vietnam now includes two branches and five transactions offices in Ho Chi Minh City; one branch, three transaction offices, and one deposit office in Hanoi, one branch in Binh Duong, one branch in Da Nang; staffed by almost 1,400 employees. See where your future could take you at HSBC.
HSBC is always looking for high-caliber candidates in Vietnam nationwide. The job offers excellent career potential and attractive remuneration packages.
HSBC is committed to building a culture where all employees are valued, respected and opinions count. We take pride in providing a workplace that fosters continuous professional development, flexible working and opportunities to grow within an inclusive and diverse environment. Personal data held by the Bank relating to employment applications will be used in accordance with our Privacy Statement, which is available on our website.
Issued by HSBC Bank (Vietnam) Ltd.
You'll achieve more when you join HSBC.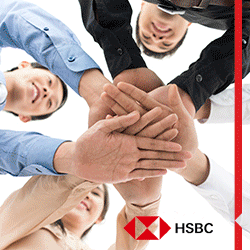 Survey
You know HSBC's Talent Network via:
Newspapers, Magazines

Friends, Relatives

Social network

Job Boards